Right next to the Kesavaperumal temple and sharing a wall with it is the Srinivasa perumal temple. the temple is 300 years old. As seen it is a Vadagalai temple
initially It was a temple for Sri.Vedanta Desikar a vigraha of Shri Vedanta desikar was moved from the Kesavaperumal temple .Hayagriva was the "upasana daivam" of Vedantha Desikar a vigraha of Lakshmi Hayagriva modelled on the idol of the Mysore Parakala mutt was later brought and installed. (The Parakala mutt is also located in Mylapore (opposite road to Mylai railway station)). The shrine of the great teacher Vedantha Desika is the one that faces north and it is the first shrine one sees in the temple. Sri Vedantha Desika lived over 730 years ago in South India. He wrote erudite commentaries on Ramanuja's Sribhashyam, Gita Bhashyam and was a great exponent of Visishtadvaita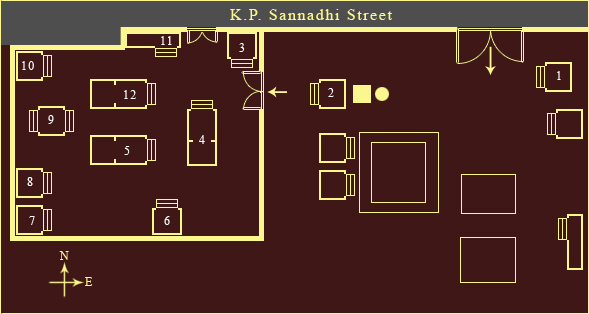 Lay out of the temple
S. No.*Sannidhi
1.Anjaneyar
2.Garudan
3.Peyazhwar
4.Sri Vedantha Desikar & Sri Lakshmi Hayagrivar
5.Sri Alarmel Manga Thayar
6.Sri Raman
7.Sri Lakshmi Narasimhan
8.Sri Bhashayakarar
9.Sri Sudarsanar and Yoga Narasimhar
10.Sri Andal
11.Azhwars and Acharyas
12.Sri Srinivasa Perumal
Note:
* - In the order of visiting the Sannidhis.
As soon as you enter the north facing temple on your right you will see the east facing Srinivasan sannidhi the lord is in standing posture with abhaya hastha and shanka chakra gada hastha
Next to the lord in a second sannidhi on his right is the thayar sanidhi. the Alamelu mangai thayar Vigraha is huge and very captivating.
(For more details temple website:http://www.svdd.com/index.asp)
( photos courtesy aparna's picasa album of mylapore walk till I can post some of my own