Today I had the good fortune of visiting the adhishtanam of the 46 th guru petadhipathi of kanchi Sri Sandrananda Bodhendra Saraswathi at Tiruvannamalai
Given below is the extract from Kamakoti.org
.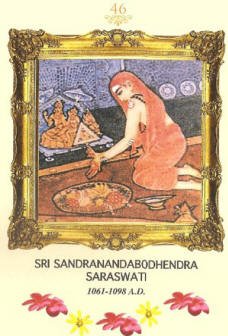 Sri Sandranandabhodhendra Saraswati :
He was the son of Surya. His former name was Somadeva and he spent a great part of his early life in attending on his Guru and predecessor Paramasiva I. He was the author of Katha-Sarit Sagara. He was presented with a palanquin wrought with pearls by King Bhoja of Dhara. He attained mukti at Arunachala Kshetra on Arriavasya in the month of Ashada of the cyclic year Esvara (1098 AD).
The story of how this adhishtanam was found is published in the calendar of the Kanchi mutt 2013 reproduced below
With the above information and Google maps as help I first visited the Kanchi mutt Tiruvannamalai and then came to this temple.
How to reach:
The Adhishtanam is situated in the North Iyyankulam street in the Iyyankulam agraharam in front of the Anamalaiyar temple adjacent to the Housing of the chariots of the Annamalaiyar temple. The temple is known as Sunderesa sabhai Shivan koil locally . it is in a narrow lane to the right.
The Iyyankulam is seen at the end of the lane
As you enter the temple you can see adhishtanam of the acharya with a Brindavanam and statues of nagas
To the left of this adhishtanam is also the Jeevasamadhi of Sri.Hari swamiji a yoga purusha, who spent his time in this temple and entered jeeva Samadhi here. Sri Hariji is credited with performing many miracles here. He had realised the greatness of this adhishtanam and gave instructions for his brindavanam to be built alongside. This is seen as a closed structure in the picture below
A bliss filed morning darshan followed.
from the kanchi calender 2018
46. Sri Sandranandabhodhendra Saraswati
1061 - 1098 A.D.
आचाय  - 46 - साानबोधे ः
बोधेाः ···ेरम ्॥ ८९ ॥
शरदिंशतं ··· पवणी ॥ ९० ॥
एष ··· िवशेष ः ॥
He, Soma, initiated with the title Bodhendra by
the preceptor Paraśivendra adorned the păṭha
and visiting countries in the palanquin exquisitely
decked with gems offered by Bhoja, the king of
Dhārā, inculcating faith in the principles of Advaita
in the minds of those who venerated him on the
path safeguarded the Maṭha from the invaders
(mlechas) with the help of the minister of the
Kashmiri King Kalaśa.
Having stayed in the păṭha for thirty-seven years,
he reached the Supreme Abode at Aruṇācala on
the New moon day of the month Āṣāḍha in the year
Ăśvara.
This preceptor Bodhendra, also known as
Sānandrānanda, was honoured for poetical
excellence by Kings - Bhoja, Kalaśeśvara and others
and was intent on travelling through the earth.